Girls Night In | Tabletop No. 1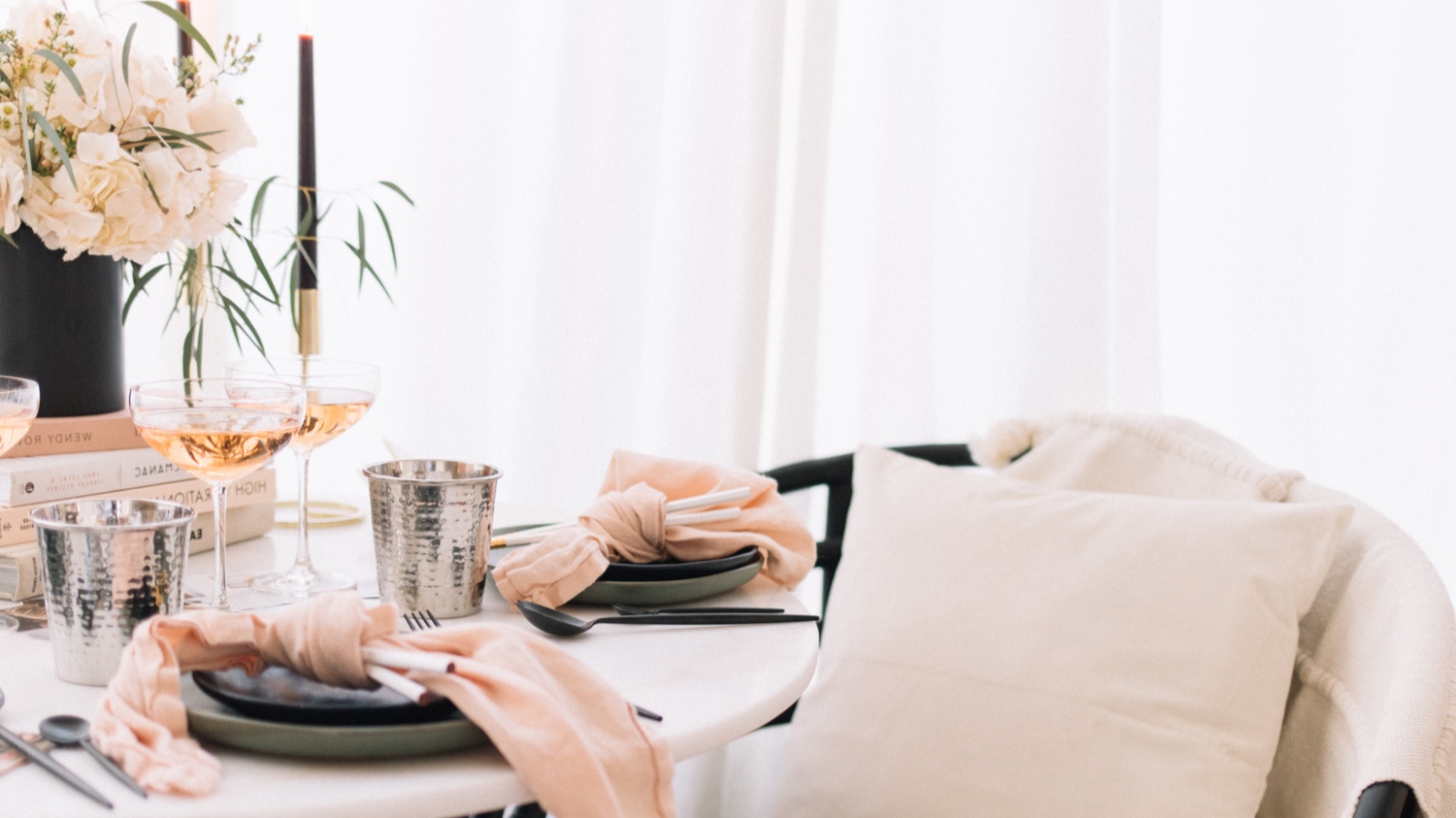 ideas for entertaining while setting your goals
Category: Entertaining
Read Time: 5 Minutes
It's funny how the world of blogging has changed. Or maybe it's me that's changing. I mean, I started this blog 10 years ago in August (omg). So if I hadn't noticed some change, there would probably be a problem. In the beginning my blog was basically a Pinterest board. Pinterest wasn't around back then, blogs were just becoming a thing, and instagram was still just someone's idea. I felt like we were all just finding cool pictures, reposting them (and crediting! what an idea!), and curating things we loved. Then came the DIY wave. Everyone was crafting up a storm which was pretty fun except there are only so many things you can glue a pom-pom too before it gets old (DIY is not dead though. Expect to see more, elevated DIY's this year!). And then came extreme styled shoots. Again, fun.. but the effort that goes into these things is crazy. Especially when you want to share them consistently. But now I feel like we are all finally settling into a sweet spot. I no longer feel like everything needs to be grand and perfect. People want real life ideas and inspiration. It's hard to accept sometimes that those perfectly styled pics aren't as popular as your real life advice… but at least things are starting to feel meaningful again.
I was thinking a lot about this when I was brainstorming for 2019 and figuring out what I wanted to do here on the blog for you guys. I've always wanted to have a little tabletop series because styling and entertaining are some of my favorite things to do. You, our readers, even left overwhelming feedback in our latest survey (thank you SO much to those who participated!) asking for more entertaining inspiration. At first, it made me a little nervous to think about the money I would have to spend on props and flowers, the time I would need to spend executing perfect details, and the space I would have to find for each shoot. But then it hit me. You guys want to see things that yes, are inspiring, but that you can ultimately recreate on your own. You want ideas for your girls nights, brunches, happy hours, date nights at home, and casual evenings with friends.
So, I hope that you guys like this new series and feel like you can take ideas from what we are sharing and incorporate them into your get togethers! Our goal is to share monthly tabletop inspiration that goes with the season or whatever holiday might be coming up. Our January tabletop came to life through a real life dinner that I have with a few friends every month. We meet up, bring dishes to enjoy for dinner, drink wine, and talk business. Since we are kicking off 2019 I thought we would share the perfect table to host a few friends and set your goals + intentions for the year.
I mentioned in this post that having accountability partners for your business and goals is absolutely necessary. If you don't already have them, this would be the perfect way to kick off your group for the new year!
Here are a few tips if you are planning on starting an accountability group this year:
Commit to meeting once a month

Ask everyone to come prepared with their goals for a specific amount of time (for the quarter, season, year etc)

Make it fun! My girls and I love to pick one part of dinner each (appetizer, dinner, dessert, wine, etc.) and have a small pot luck type evening.

If you want to go above and beyond, you can set your table with cute notebooks and fancy pencils like we did here for everyone to start their goal planning. You can also bring magazines or printouts to share your vision, create a moodboard, or tape in your notebooks for inspiration.

Once you have settled in and are ready to chat intentions, start by going around the table and one by one talking about your goals and why you are setting them.

I shared my four steps (here) to simplify and break down your goals into projects and tasks, follow those steps and share with everyone how you plan on reaching them.

Next we share our advice for each other and ask questions to understand why the projects are important to their owners. I think this is the most important part. Having an outsider's perspective on something you've been thinking to yourself can be so helpful!

Finally we set a time to chat the following week (it usually takes 5-10 minutes per person) and hop on a call to talk about our progress. We try to do these check-ins once per week to stay on track until our next in person meeting.
You can totally be less structured and talk about dreams, projects, travel, issues, whatever you want! It's just good to start the year off on the right foot and talk through your plans with people you are close with. Other things you could host a night like this for:
moodboarding for upcoming projects

making vision boards for your year

listing out dream clients you want to work with and brainstorming projects

recap your 2018

talking through current projects you are stuck on
get the look with some of our favorite pieces!

There's never a bad time to sit down with friends or peers and really dive into what you want for the future. You can really host something like this any time of the year!
What are your favorite ways to host a girls night in? Do you like to keep it casual or get creative with projects like goal setting? We'd love to here in the comments!