Homemade Rosemary + Coconut Oil Mask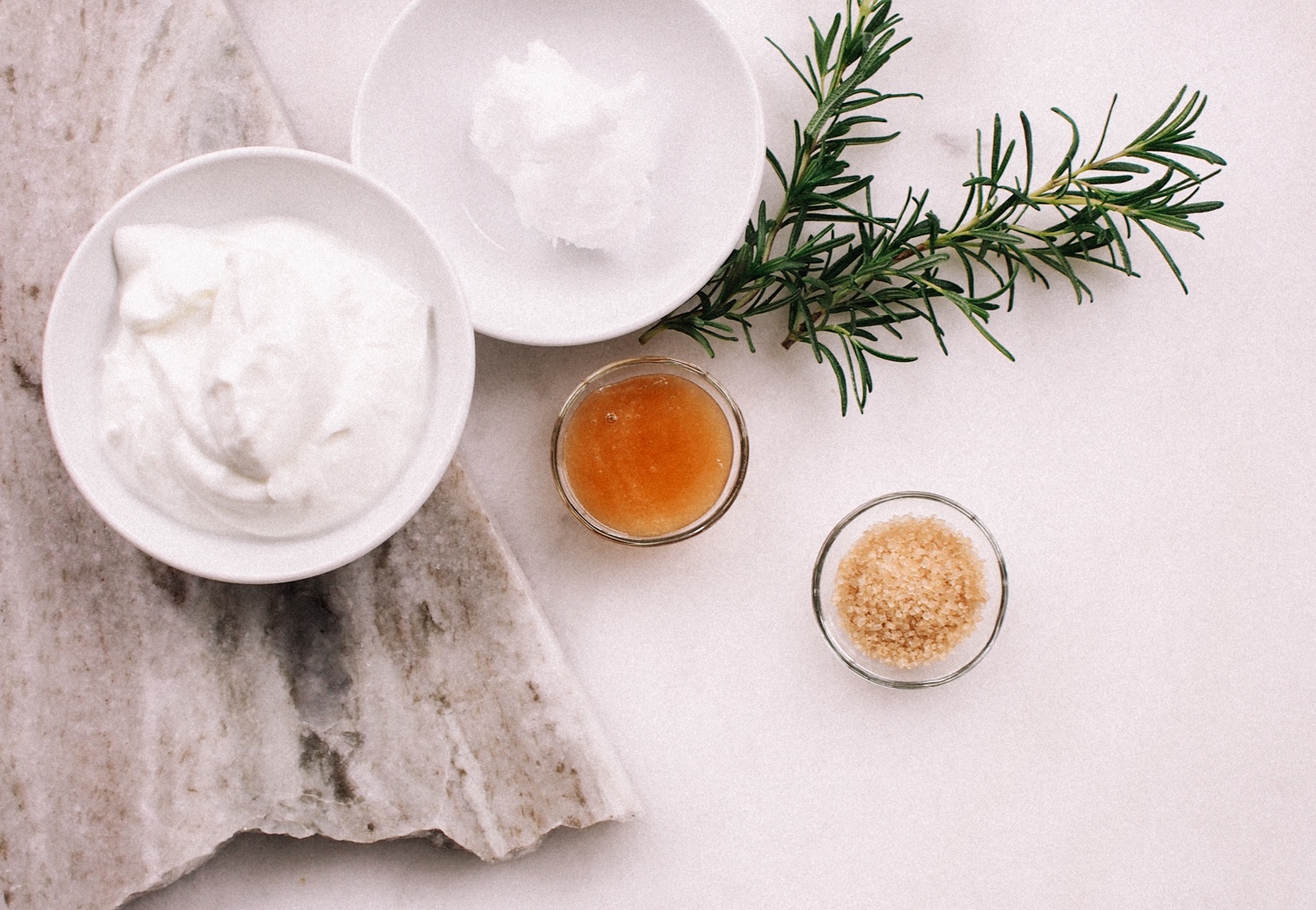 whip up this mask with 4 ingredients
Topic: Beauty
Read Time: 3 minutes
New year, new you right? Ya ya, we've heard it (and said it) all before. And while we all have goals and things we want to do to better ourselves, we also understand that it doesn't all happen at once. Let's take our beauty routines for example. Refreshed and glowing skin is always at the top of our lists. But honestly after the holidays who has $$$ to spend on new masks and serums and creams and whatever else we need? That's why we did a bit of research and made our own mask instead. It checks off a few boxes on our list of being better humans. Self care? Check. Save money? Check. Take care of our skin? Check.
And guess what? You can probably make this with items already in your kitchen leftover from breakfast. It's 4 simple ingredients with a few steps to a refreshing mask that you'll want to make a daily habit (if we all had the luxury of time to treat ourselves to a mask a day!). We love it while we're listening to our favorite podcast, reading a chapter in a new book, or even during a girls' night in with a little rosé.
Ingredients:
1 tbsp. coconut oil

1 sprig of rosemary (finally putting my garden to use!)

4-5 tbsp. greek yogurt (more for a thicker consistency)

1 tbsp. honey

sugar (optional)
Instructions:
Roughly chop rosemary

Melt coconut oil in a small sauce pan and mix in rosemary

Simmer this mixture for 8-10 minutes, rosemary will begin to lose it's color

Remove from heat and strain rosemary pieces from the mixture. Discard rosemary

Add oil to a mixing bowl and let cool slightly

Before oil has solidified, but has had time to cool, mix in greek yogurt + honey

Refrigerate for 10 minutes to ensure your mixture is cold

Finally mix in the sugar (use sugar if you are using immediately, it will act as an exfoliant. if you are saving for later, don't add until you are ready to use)

Store in the refrigerator for 1-2 weeks (we'd recommend using this mask 1-2 times per week if you love it!)
* Makes 3-4 masks *
Why am I putting this on my face?
Rosemary oil helps stimulate cell renewal, promoting healthy healing, while moisturizing and improving skin circulation.

Greek yogurt is full of lactic acid that helps smooth dry, rough skin and dissolves dead skin that clogs pores. Its anti-bacterial properties is great for acne-prone skin.

Honey can almost do it all. It promotes collagen building, it's moisturizing and its antioxidants nourish skin which can assist in the healing of acne scars.

Sugar, as explained above, will act as an exfoliant if you are using your mask right away. When applying, lightly massage the mask onto your skin. If you are saving your mask for later use, do not add the sugar as it will dissolve. You can add if you decide to right before use.

Coconut oil contains vitamin E and saturated fats which moisturize, repair and restore quickly as it is rapidly absorbed into the epidermis.
How to use?
After you have washed your face, remove the mask from the refrigerator. Apply a generous amount all over face, avoiding the eye area. Wait 10-15 minutes and rinse. We recommend following with your favorite serum and/or moisturizer.
How did it work for us?
After this mask we noticed that our skin looked even, moisturized and was glowing. It's definitely going to be a go-to for a quick weekday refresh!
Is a skincare refresh on your to-do list for the new year? What masks have you tried making at home?