Coffee Table || Styled 3 Ways
First things first, if you haven't read our living room reveal post, then you should probably head over and check that out first!
If you have, great — you've actually seen the centerpiece that we're talking about in today's post!
I've always had a solid (ie. not glass), rectangle coffee table. So when we had the chance to update the living room, I decided it was time for a change. I felt like the glass and the shape really softened up the heavy furniture pieces we were putting around it.
Problem was, I've never styled a round, glass coffee table so I was having a little "creative block" when it came to decorating it. Maybe this is just a personal problem, or maybe lots of people have trouble styling this type of table, either way, I thought I'd share 3 ideas that I felt really worked with the table and our space! Any of these methods can really be adapted to any coffee table. Depending on the size and shape, you can simple adjust the size of the items you are using or the angle at which they are styled to fit your own table.
THE MODERN MINIMALIST
COFFEE TABLE
the city chic
coffee table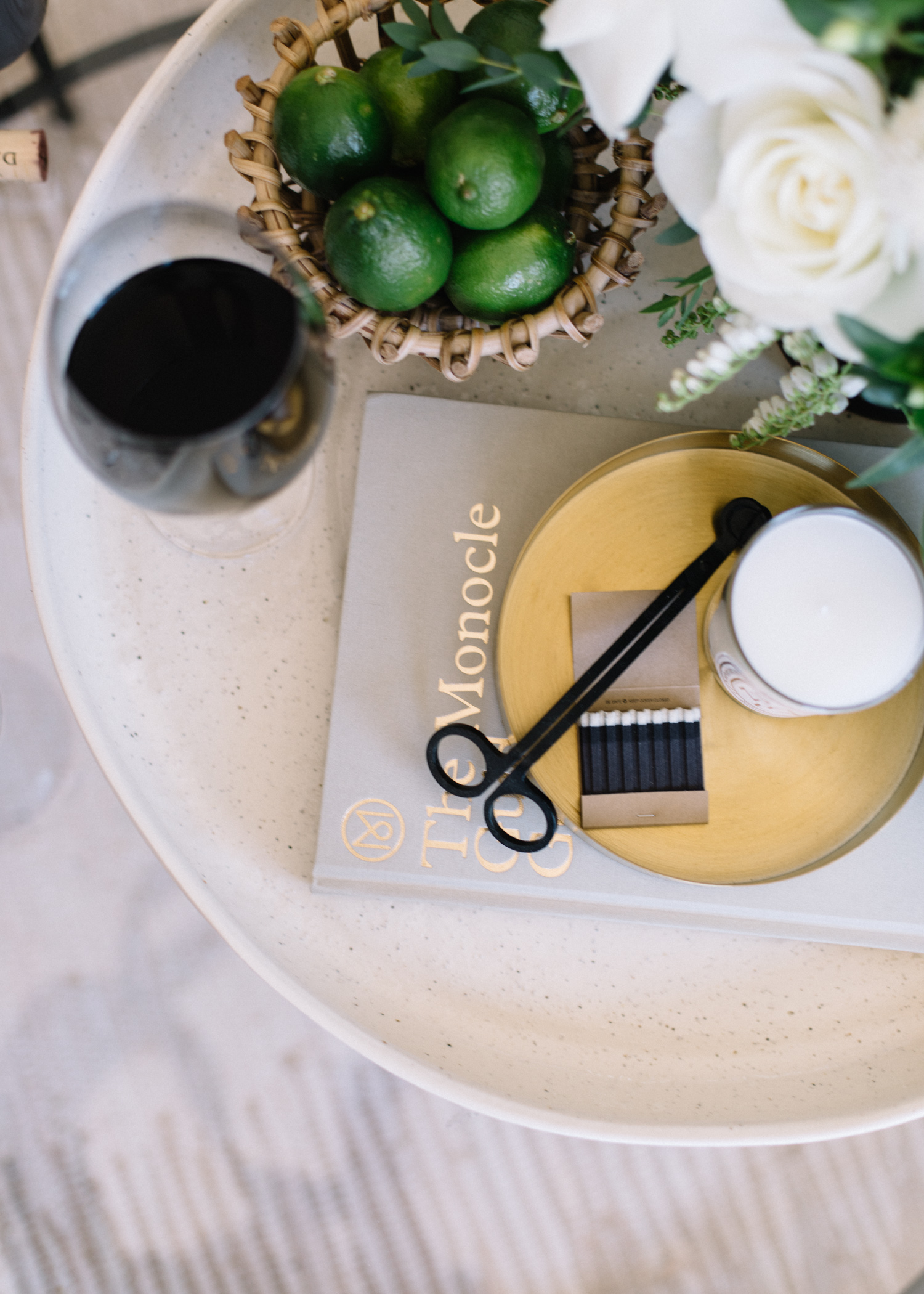 This was my first idea, probably because it was the easiest or most classic. When all else fails, I always know I can add a tray to give interest to any space. I kept the circle theme going in the trays, vase, basket and coasters. If you aren't as into creating flower arrangements I would suggest a more voluminous plant (like a fern) that would take up a bit more space, like our flowers did. That way you can keep the rest of your accessories minimal, and let your trays and bowls be the focus.
While this option didn't initially meet my needs for chaos and filling up spaces, it did give me a sense of calm. I wanted the focus here to be the glass box. You could place any keepsakes here or just use for storage (for pretty things of course). I accented it with black, and grounded the box with a book underneath. The box being glass, would be lost on the table without using something underneath. Because it felt like there were a lot of hard edges, I tried to soften it up a bit with some dried elements.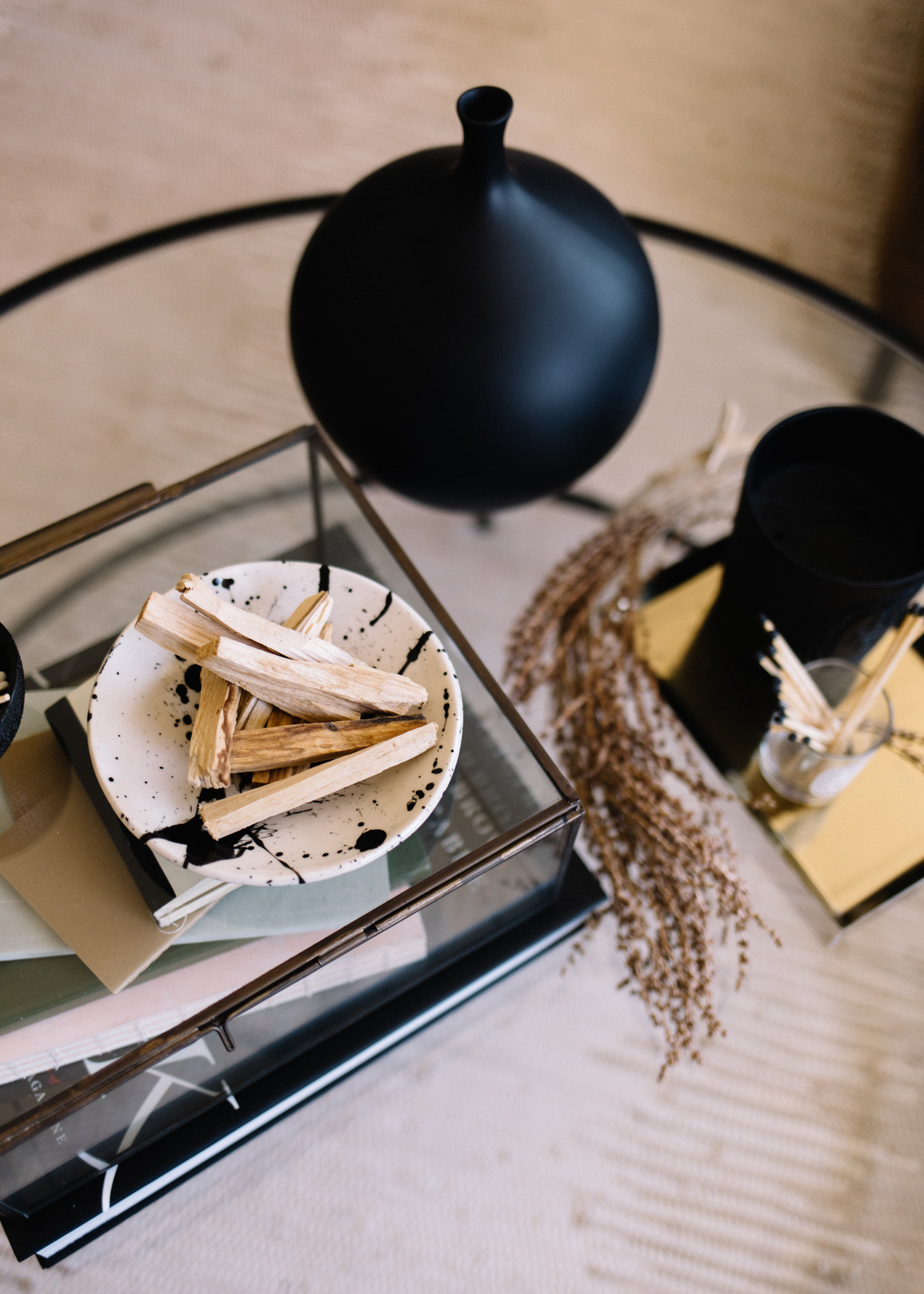 the modern minimalist coffee table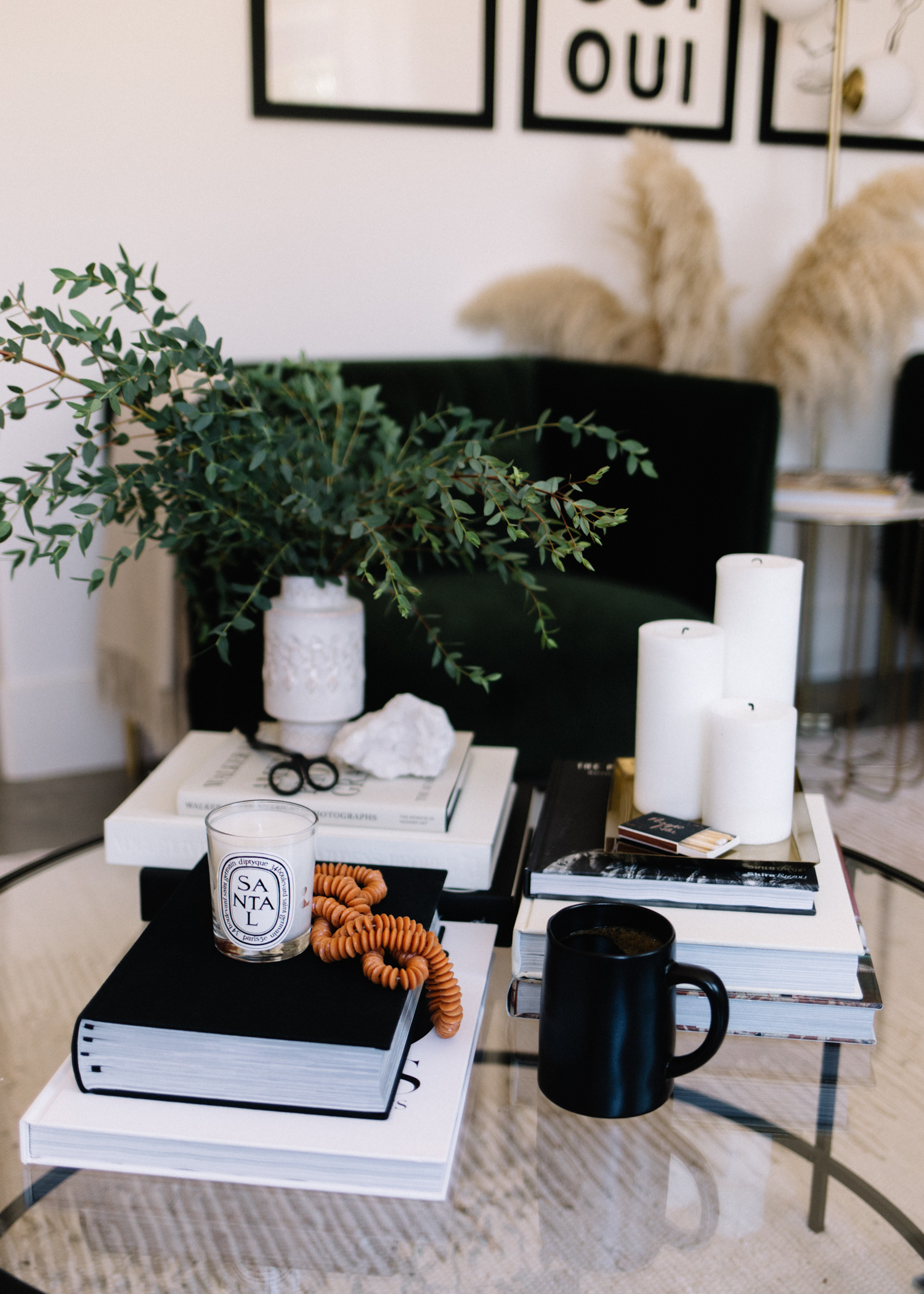 the city chic coffee table
I LOVE a good coffee table covered in books! I think it is so interesting to collect your favorites and have them in a display that is actually useful. I kept the palette neutral by using all of our black, white and cream books. I added some foliage… just because a nice vase of foliage instantly makes any table look better!
There are three things I recommend for every coffee table:
A coffee table book

Your favorite candle

Some sort of plant or flower arrangement
Even just using those 3 very simple ingredients can be a great start to a styled coffee table.
So, which one did I end up going with?
The Classic!
The book covered setting was my favorite, but my husband is ALWAYS complaining that there is too much going on. So that definitely wasn't going to work for us (at least while he's home;) The classic was my go-to and I love that the tray kept everything in one place… still allowing my husband to do whatever it is that he needs to do on the rest of the table.
DO YOU HAVE A FAVORITE FROM THE THREE STYLES?
LET ME KNOW IN THE COMMENTS!
Images by Kimi Domino